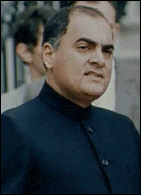 Rajiv Gandhi
born: 1944
died: May 21, 1991 in Madras

The first born of the two sons of Indira Gandhi, Rajiv was an excellent airline pilot who was not interested in politics. After the death of his older brother, Sanjay, Rajiv was groomed to move into political life by his mother. He became Prime Minister of India on the evening of his mother's death.

Rajiv was very popular with his people. They viewed him as a great leader that embodied the ideals of earlier regimes coupled with a forsight that would take India into a bright future. He worked to bring hi-technology into India from other countries. He cut inheritance taxes as well as taxes on wealth. He replaced old cabinet members with new, younger ones that shared his vision. He used military power to put down religious rebellions in the country.

Soon however, scandals began to arise among many of Rajiv's government officials which did much to destroy his popularity. Continued poor choices and religious contention would eventually result in his downfall and death: Rajiv was assassinated during his campaign in 1991, as he was shaking hands in a crowd of people, by a young female member of the Tamil "Tiger" terrorists. The terrorist had a bomb in her possession which she detonated killing herself, Rajiv, and 12 others.
---