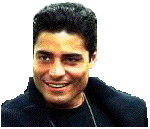 CHAYANNE
To say that Chayanne is an accomplished artist is an extreme understatement. His talents in the areas of acting, dancing and singing are unequaled by many performers in the music industry today.
Like his fellow superstar, Ricky Martin, Chayanne is Puerto Rican. He is the third in a family of five children. He became famous at the ripe old age of 10 as a member of the latin band, Los Chicos. The immense talent of this group produced five albums and a film entitled, Los Chicos En Conexion Caribe.
Then, at age 17, Chayanne decided to try his hand as a solo artist with his album, Chayanne Es Mi Nombre. It was a success and he went on to record several more albums, Sangre Latina, Chayanne, Tiempo De Vals, Provocame, Influencias, and Volver A Nacer containing the hit single, Solamente Tu Amor which propelled Chayanne into the top 10 throughout Latin American and the Caribbean Islands in 1996. His popularity continued and he went on to sell "well over four million albums, scoring 20 platinum and 35 gold records. He has received a Grammy Award nomination and an MTV Award for Best International Video. He has had 13 Top 10 hits on the Billboard charts, including three in the No. 1 slot. His last four albums reached the Top 10 and remained there for over 160 weeks combined."- (taken from Sony's, Dance With Me, web site). And speaking of Dance With Me, Chayanne highlights his other talents as an actor and dancer along with his singing abilities in this musical film. Chayanne is definitely a performer who will be entertaining not only Latin Americans but other peoples of the world for many years to come!