Name____________________ Date ______________ Period _____
Final - Rome
(worth 100 points total)
Directions: Write the letter before the names on the right in the blank next to the description on the left which best fits that name. All answers are worth 3pts. unless otherwise indicated.
Part I: Information form the Book:
SECTION 1

1. ______ Members of land holding upper class

2. ______ The most powerful, Roman governing body

3. ______ Government is run by elected officials

4. ______ Basic army unit of up to 5,000 men

SECTION 2

5. ______ Rome's largest racecourse

6. ______ 200-year period, means,"Roman Peace"

7. ______ First emperor of Rome

8. ______ Nephew and successor of Julius Caesar

SECTION 3

9. ______ Laws for Roman citizens only

10.______ Laws for all citizens. Roman & non-Roman

11.______ Wrote the poem The Aeneid

12.______ Blending of Greek, Hellinistic, and Roman cultures

SECTION 5

13.______ Became emperor of Rome in 284

14.______ Warrior called the "scourge of God"
by the Christians

15.______ Visigoth general who plundered Rome

16.______ A nomadic, warring people from East Asia

A. senate

B. legion

C. republic

D. patrician

A. Julius Caesar

B. Augustus

C. Pax Romana

D. Circus Maximus

A. Greco-Roman civilizations

B. Virgil

C. civil law

D. law of nations

A. Diocletian

B. Huns


C. Alaric

D. Attila
Part II: Classroom Notes:
THE ROMAN CITY:
Directions: Choose any 4 for the following words and give the definition for each.
Roman Island:
The Forum
The Temple: (tell which gods)
The Basilica:
The Theater:
The Amphitheater:
The Calderium
The Tepiderium
The Frigiderium:
ROMAN MYTHOLOGY:
26. Tell in your own words the story of Romulus and Remus (12 points):
Give the Greek names for the following Roman gods/goddesses:
27. Jupiter:
28. Mars:
29. Juno:
30. Minerva:
THE LABORS OF HERCULES:
31. Name and explain any 5 of the 12 Labors of Hercules:
Extra Credit (3 points each):
Give the cause of the death of Hercules:
Return to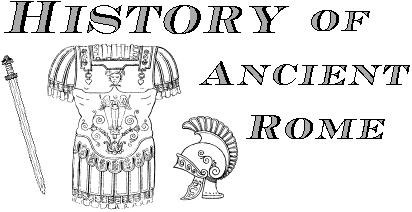 © 1999 Have a question about the test? "E-mail Mr. Charon!"
Feel free to e-mail your test answers to Mr. Charon!